Cross-posted from Red-Inked Leaf, my editing blog:
Up until this past year, I have edited numerous manuscripts. Some I have seen nearly from beginning to end, others only in fits and starts, some only a few pages. Such is the life of a writing group member.
Writing groups are a great way to gain experience as an editor, seeing how different people write, and different people to react to being edited. But it is a far cry from editing a manuscript from first read to final release.
Purple Haze
took about a year from when I first received the manuscript until it was released into the wild. It's the first book I've edited with
Savant Books and Publications
, so in part, I wanted to take my time and see that I did it right. But I also needed to find the balance between writing my own work, teaching college-level English and Psychology, and editing nonfiction freelance (along with some weekly volunteer work, a vague semblance of a social life, and a year full of a number of health issues).
The first step, after an initial read-through, was to decide whether to edit a chunk of chapters and send those to the author, then do another chunk, and so on; or to edit the whole manuscript and send that. We opted for the former, running on enthusiasm and a desire to jump into it.
As I made edits and suggestions, I sent those out, and George edited them and sent them. I held off on my second round of edits, though, until I had gone through the whole manuscript. Then we started the process again.
At first, the focus was bigger ideas--content, plot, characterization. As those were edited, our focus narrowed to smaller issues, until it was line edits: grammar, punctuation, sentence structure.
It took about three or four rounds of "edit, send to author" before we felt comfortable passing it on to the proofreaders. At that point, we also starting working with the cover artist on the cover.
Now we are in the post-release marketing stage. So below is the press release of Purple Haze. Please read, and I hope you get the book, and pass along the description. Happy reading!
Savant Books Announces the Release of George Hudson's New Novel, "Purple Haze"
Savant Books and Publications LLC, Honolulu, Hawaii, USA, announces the release of George Hudson's novel of past and present murder and intrigue, "Purple Haze."
Savant Books and Publications LLC, Honolulu, Hawaii, USA, announces the release of George Hudson's novel of past and present murder and intrigue, "Purple Haze."
FOR IMMEDIATE RELEASE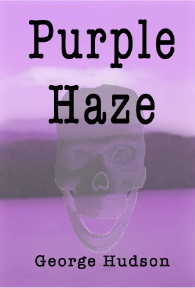 George Hudson's "Purple Haze"
PRLog (Press Release)
-
Jul. 26, 2013 - HONOLULU --
A skull discovered in a lake leads FBI investigators Bryan Langston and Joe Mallory on a dangerous search for answers to a thirty-year-old unsolved murder. What they don't know is that there is someone still alive who will do whatever it takes to keep the truth buried, even if that
George Hudson
was born in East Tennessee in 1947, into a family of seven other siblings. His life was deeply impacted by the Tennessee Valley Authority and by the lakes throughout the area in which he was raised. He has been a lifetime educator, teaching history in the public schools in Tennessee for thirty years. George also taught as an adjunct professor of history and is presently teaching at the University of Tennessee-Chattanooga. In his writing, he intersperses bits of history about the area to add local color and sentiment. He and his wife, Gail, live in Chattanooga.
"It's exciting to finally have this book available for all to read," says Hudson. "'It has been an untold story in my imagination for a long time."
"Purple Haze" by George Hudson - 274 pages - 6" x 9" Trade Book - Color Softcover. ISBN
9780988664050
. Suggested retail price $16.95. Released in July 2013 by Savant Books and Publications, Honolulu, Hawaii, USA.
This book is available from the publisher, printer and Amazon.com at
http://www.savantbooksandpublications.com/9780988664050.php
from Savant Bookstore Honolulu at
http://www.savantbookstorehonolulu.com
and directly from Amazon.com at
http://www.amazon.com/Purple-Haze-George-Hudson/dp/0988664054/
Savant Books and Publications LLC is a publisher of enduring literature and media for the 21st Century. For more information visit www.savantbooksandpublications.com